State of Readiness
Mashreq Arabia uses Oracle technology to improve operational readiness for Saudi Arabian National Guard.
by David Baum, February 2016
 W ith a military organization as large as the Saudi Arabian National Guard, maintaining operational readiness is a tremendous challenge. It requires everything from determining the location of combat vehicles to delivering weapons and supplies to dozens of brigades and thousands of soldiers—often on a moment's notice. But for Brigadier General Abdulaziz Almogbel, the organization's general manager of information technology and security management, operational readiness involves the movement of a much more tenuous commodity: information.
In 2014, Brigadier General Almogbel and his team enlisted help from Oracle Consulting and Mashreq Arabia to create the Automated Logistics Support System (ALSS), a massive IT project designed to integrate information and boost military readiness. Mashreq Arabia is an Oracle partner that offers business advisory, IT, systems integration, and outsourcing services. The team envisioned an integrated supply chain and logistics system with modern alerts and reports to support operational, tactical, and strategic requirements. "Our primary motivation was to streamline all logistics processes and planning processes across the kingdom, and to enhance the readiness of all logistics and combat units on the ground," says Ashraf Mahmoud Zahran, CEO of Mashreq Arabia.
The Saudi Arabian National Guard (also known as the White Army) is one of three major branches of the Armed Forces of the Kingdom of Saudi Arabia, with a standing force of 100,000 troops and a tribal militia of 25,000 troops. This large, well-trained organization is under the administrative control of the Ministry of the National Guard (MONG) and serves both as a defense force against external attack as well as a security force against internal threats. Its duties include guarding against military coups, protecting strategic facilities and resources, and providing security for the cities of Mecca and Medina, which are important destinations for Islamic pilgrims.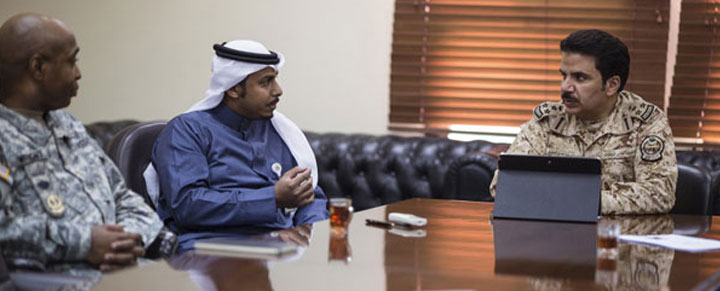 SANG Captain Engineer Abdulelah Alogayel.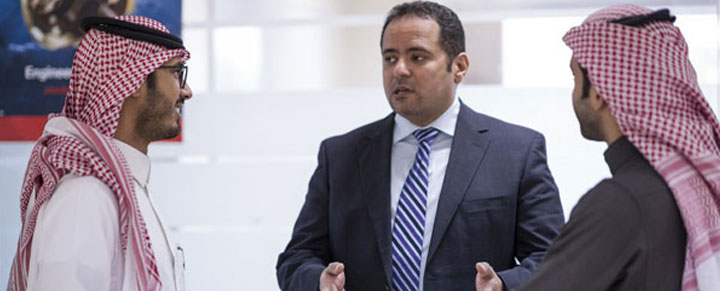 Mashreq Arabia CEO Ashraf Mahmoud Zahran (middle) with IBM Project Management Office Consultant Hamad Al Jamaan (left) and IBM Change Management Consultant Faisal Al Jublan.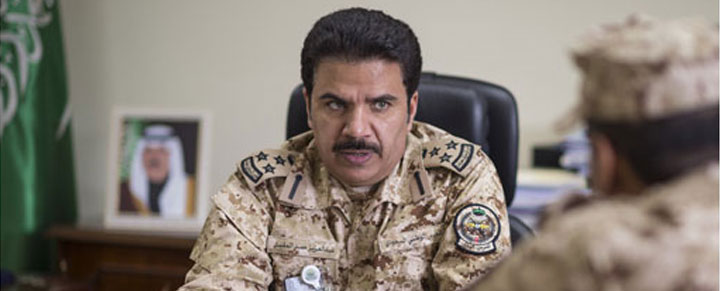 "MONG, Mashreq, and Oracle work as one team," says the National Guard's Brigadier General Abdulaziz Almogbel.
Previously, MONG had difficulty integrating hybrid applications, which led to inefficiencies within core functions—such as maintenance, stock levels, and transportation. These inefficiencies hindered operational planning. "MONG had become too dependent on manual processes, which made its legacy logistics system inconsistent and inaccurate," Zahran adds. "In addition, they lacked a coherent and comprehensive database that covered each and every stock item."
According to Zahran, military and defense forces in the Middle East face real challenges in the twenty-first century—increasing threats to national and international security, as well as budgetary pressures to reduce costs while having to maintain and improve operational effectiveness. But he believes technology can help defense organizations achieve greater efficiency and effectiveness in such an environment. "For example, the Ministry of National Guard is playing an important role in securing the southern and northern kingdom borders," he says. "Oracle's cutting-edge technologies and components have enabled us to provide them with reliable data storage while maintaining a highly secure environment."
Mashreq Arabia Spearheads an IT Overhaul
While the National Guard has always had excellent information systems to fulfill its charter, most were designed to automate specific functions rather than to work cohesively in support of a unified information strategy. Different groups throughout MONG utilized different systems, which made it difficult to respond quickly during emergencies. This lack of integration led to expensive and error-prone processes among standalone systems, plus extensive manual intervention to reconcile data among various software packages.
"We need to provide accurate information to senior officers and managers about the strategic current state of the organization in order to make important decisions," says Brigadier General Almogbel.
Working with Oracle and Mashreq Arabia, the general and his team set out to automate all supply, maintenance, and transportation operations. Their main goal was to speed up the process of creating and delivering readiness reports—with the charter of improving turnaround time from days to seconds.
Oracle and Mashreq Arabia worked closely with the G4 division of MONG, which is responsible for supply chain planning, transportation, and maintenance. To automate logistical operations, they installed Oracle E-Business Suite including Oracle Financials, Oracle Procurement, Oracle Human Resources Management System, Oracle Advanced Supply Chain Planning, Oracle Warehouse Management, Oracle Enterprise Asset Management, and Oracle Transportation Management. They also installed Oracle Business Intelligence (Oracle BI) solutions to generate reports for the high command.
Better Applications
Zahran says ALSS has already enabled MONG to eliminate inconsistencies in its database and streamline its core operational processes. New logistics management procedures will help control stock levels and speed up inventory turns based on better replenishment signals in the warehouses. Optimized transportation planning will allow MONG to route parts and supplies to troops on the front lines at precise times and locations.
"The tight integration provided across Oracle's supply chain, maintenance, and transportation modules makes it easier to plan for efficient deployments, maintain proper stock levels, and establish more-efficient transportation routes," says Zahran. "This minimizes time required to maintain the readiness of logistics and combat units across the kingdom."
Mashreq Arabia Project Manager Islam Ragab says the new Oracle-based systems will make it easier for everybody to follow standard procedures, whether they are requesting parts or disposing of waste materials. These systems will also make these procedures easier to comprehend for new officers joining the organization. "Different monitoring units, introduced at different times, led to redundant responsibilities for the approval of transactions," he explains. "Now the team is integrating Oracle's supply, maintenance, and transportation software products to develop a more complete picture of operational readiness."
Oracle and Mashreq are working closely with MONG to structure this ambitious project, beginning with the implementation of new systems for finance and HR. They will use the Oracle transportation software to transform key manual activities that are currently handled with paper-based procedures. "MONG, Mashreq Arabia, and Oracle work as one team," says Brigadier General Almogbel. "There is a good level of cooperation and integration from all parties."
The partners structured the implementation in phases to make it easier for users to gain familiarity with the new software. As of this writing, they are getting set to unveil a series of new information systems that will empower the National Guard's high command to assess equipment, supplies, and personnel at all times, with better reporting for top advisers. Throughout 2016 and 2017 there will be several additional implementation "waves," with the final go-live date set for the end of 2017.
The new system will be able to generate unit readiness reports automatically. . . . This is an important component of managing daily supply chain operations and is a critical factor in making military deployment decisions.
-Brigadier General Abdulaziz Almogbel, General Manager of Information Technology and Security Management, Ministry of the Arabia National Guard
A big part of the rollout involves helping the staff make the transition from pull-based supply to push-based supply, in which stock items will be automatically replenished based on predictive forecasts. "The new maintenance applications can predict potential failures of parts and deliver them in advance to eliminate downtime of equipment and vehicles," explains Ragab. "Field units will not have to wait for spare parts. Rather, the parts will be delivered to them in anticipation of expected maintenance cycles."
Better Reports
National Guard combat and logistics units are required to periodically submit readiness reports covering all supply, transportation, and maintenance requirements, during peace time as well as periods of combat and disturbances. MONG's new readiness reports have been designed to instantly apprise military leaders about the status of all vehicles, tanks, soldiers, officers, and supplies so they can assess their readiness for these types of deployments. Does each brigade have the right equipment and personnel for the mission at hand? Are the soldiers properly trained? Military leaders will be able to answer up-to-the-minute questions by reviewing the operational readiness reports, which automatically combine information from applications handling inventory, warehouse management, transportation, and supplies.
"Readiness reports are analyzed to establish remedy plans as needed," Brigadier General Almogbel says. "MONG maintains and monitors execution plans to increase unit readiness. The new system will be able to generate these unit readiness reports automatically."
In addition, the data will be archived in a data warehouse for operational reporting and predictive analytics. The database has been modeled to include detailed information about spare parts, medical supplies, food, beverages, helmets, boots, petroleum, and many other small items, plus major assets such as cars, trucks, and tanks—about 240,000 items in all.
"The goal is to be available at a moment's notice for deployment," says Ragab, who helped establish the requirements for the new information systems and accompanying database. "Being able to forecast and predict needs for maintenance and supplies puts each unit closer to that goal."
Oracle Business Intelligence solutions will generate reports related to the status of military units, vehicles, and supplies. "Previously these reports would take weeks to prepare," continues Ragab. "Once the system is fully deployed, these reports will be available in seconds. This will be a huge transformation."
For example, one new BI application details the status of all armored vehicles, tanks, and reconnaissance vehicles. Another application provides information on every repair order issued for every vehicle, along with the current status of those repairs. Users will have complete visibility into the maintenance status of all assets. Yet another application provides an organizational hierarchy of officers and soldiers along with the vehicles available for each unit.
"Oracle Business Intelligence solutions will gather information from multiple applications and provide one readiness report on vehicle status," explains Ragab. "Specific KPIs [key performance indicators] will gauge readiness levels and make recommendations about outstanding items."
Saudi Arabian National Guard
Number of regular troops in the Saudi Arabia National Guard
100,000
Size of the Saudi Arabia National Guard tribal militia
25,000 troops
Looking to the Future
In the future, Zahran believes ALSS will also enable MONG to minimize excessive inventory and eliminate nonrequired purchases. Having accurate maintenance schedules and better reports will minimize breakdowns and consequent repair costs. Integrating global positioning system data with Oracle transportation applications will enable officers to track military vehicles more precisely, while back-office integration with Oracle Financials and Oracle Human Resources applications will make it easier to manage payroll for MONG's 100,000 employees. "Data is accessible to decision-makers through BI dashboards, with potential for secure mobile access in the future," Zahran says. These Oracle BI dashboards are designed to reveal correlations between successful missions and not-so-successful ones. For example, an analyst studying recurring maintenance problems might note an inordinate number of flat tires on missions to the east coast. Recognizing this trend will encourage the use of different vehicles on those missions, minimizing costs and delays.
New KPIs include the number of transactions in the supply warehouses, the number of inventory turns, maintenance productivity, and lots of HR metrics that indicate how the total workforce is growing. "Do we have too many mechanics?" Ragab asks. "Too few engineers? It used to be tedious to get this information because we had to combine it manually. Once all these new systems go online, metrics that used to take half a day to produce will be produced instantaneously."
Brigadier General Almogbel shares this enthusiasm. "The primary value of an ERP [enterprise resource planning] system is to manage all aspects of a business as an integrated solution, making it possible to avoid most of the intractable problems that plague organizations. Our new information systems will allow us to access the right information. This is an important component of managing daily supply chain operations and is a critical factor in making military deployment decisions."
David Baum is a freelance writer who has been chronicling business and technology innovation for more than 20 years.